I know two ladies who will be having babies in October. They are sisters and the neat thing is they are both expecting boys on the exact same day. I wanted to make something for their babies and pumpkin hats seemed like the natural choice.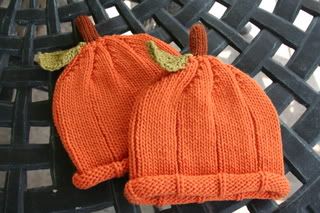 Little Pumpkin
Book:
Itty-Bitty Hats
by Susan B. Anderson
Yarn:
Berroco Comfort (50% Super Fine Nylon, 50% Super Fine Acrylic)
Colors:
Kidz Orange 9731, Sprig 9721, 9745
Needles:
US 7, 16" Circular and DPNs
Size:
Newborn
This is the first time I have used
Berroco Comfort
and I am very pleased with it. I found it at
SWAK
on our recent trip to Oklahoma. It's an extremely soft, worsted weight yarn that doesn't feel at all like you would expect acrylic to feel. It feels so nice in fact, that I would even consider using it for myself. And the best part is that it's easy care -- machine wash and dry. Each skein is a generous 210 yards which was more than enough for both of these hats. Since the price was right (I paid $5.50/skein), I bought several skeins of orange to have on hand specifically for pumpkin hats. I'm glad I did.