The weather was perfect for Saturday's trek. Clear blue skies and cool temperatures. As planned,
Margene
picked me up at the hotel and we drove to Big Cottonwood Canyon for breakfast at
Silver Fork Lodge
. It was our first time to meet in person, but it was nothing like meeting a stranger. Conversation came easily and we enjoyed our visit. Talked so much in fact that I forgot to take pictures at the restaurant.
After a delicious breakfast (I had the famous sourdough pancakes), we drove the short distance to Silver Lake for our trek. It a beautiful place!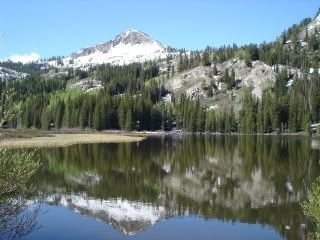 No wonder it's one of Margene's favorites.
Here's Margene showing off her Trekking sock.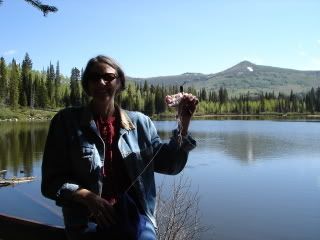 And here's one of my socks.
You probably can't tell, but we're using the same colorway (#133). I happened to win my Trekking yarn in her birthday contest. The question I answered correctly was to name her favorite weekend breakfast spot. So it seems only right that we would eat at Silver Fork and then take this trek. I had a great time!