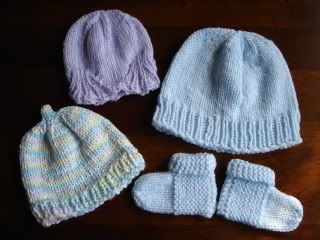 It's been a while since I've shown you a hat or a pair of booties. Knitting for the babies has taken a backseat to graduations, birthdays, anniversaries and life in general. I did manage to knit a few things for
The Preemie Project
though:
Lavender Hat:
Pattern from
Oneskein
. DK yarn, size US5 dpns, CO 54 sts = 3-5 lbs.
Variegated Hat:
Variation of
this pattern
. WW yarn, size US7 dpns, CO 48 sts = 3-5 lbs.
Blue Hat:
Variation of
same pattern
above. DK yarn, size US5 dpns, CO 72 sts = 9-11 lbs.
Booties:
A new
pattern
for me. I really like it. DK yarn, size US5 straights = 9-11 lbs.
Now that things are getting somewhat back to normal around here, I think I'll have more time for the knitting I enjoy the most. This arrived from
Donna
the other day all the way from Australia.
It's true that knitters are the most generous people around. Thank you Donna for this lovely gift. Your package went in the mail yesterday. I'm excited about trying the patterns in these books. Donna made
these hats
from the Cleckheaton book. This prompted a comment from me which led to the exchange. Aren't they adorable? The best thing is that all the designs in this book are also written in preemie sizes! The yarn she sent is fingering weight which is perfect for tiny hats and booties and hard to find where I shop. This is just the inspiration I need.