This is the last of my
Trek-Along
hikes in Utah and the start of a brand new sock. Here I am on the Lake Mary Trail in Big Cottonwood Canyon working on a sock for my husband, John.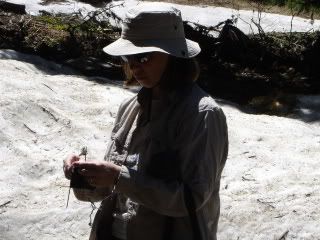 John went with me on this hike and we were both humbled by the altitude. The beginning of the trail was just too steep for us flat landers who are used to living at sea level. Where did all the oxygen go! After some huffing and puffing we decided to turn back and take an easier trail.
So, back to Silver Lake where I had been with
Margene
just the day before. I didn't mind going back at all.
The trail around the lake is a boardwalk for most of the way. It is flat and easy to walk. John
just happened
to have his fishing rod in his backpack and of course I
just happened
to have yarn and needles. So while John fished, I worked on the sock.
Trekking XXL (#115)
The weather was perfect and we had a great day walking, fishing, knitting and taking pictures. I know we will go back next time we visit Salt Lake City.
Sunlight Through the Trees



Pussy Willows At Silver Lake