The tree is not decorated yet, but most of the presents are wrapped. Here's a little gift I put together for my neighbor.
Gingerbread Coffee Creamer and Felted Coasters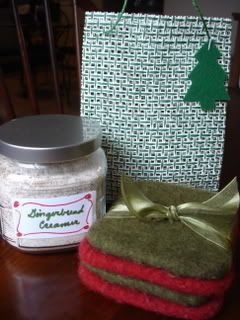 Jean shared the
recipe
for this tasty creamer on
her blog
recently. I decided to try it and I really enjoyed the spicy flavor. I used it in a cup of coffee, but it can also be added to hot tea. If you like your coffee or tea extra sweet, you will probably want to add more sugar. I liked it just the way it is.
The coasters were knitted from a pattern in
Felted Knits
. They are worked on circular needles back and forth in garter stitch and then stitches are picked up all around for the border which is also worked in garter stitch.
You can find a free pattern for felted coasters
here
. They are round instead of square and worked in stockinette stitch.
These coasters are a great way to use up leftover bits of yarn. Also, you might consider knitting one as a test swatch for a larger felted project. Not only will you get a good idea of how well the yarn will felt, you will also have a finished object to add to your list.