...no matter what the tag says.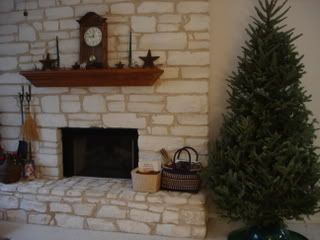 The one advantage to waiting until the week before Christmas to buy a tree is that you can usually find a good deal. This year, because we've been traveling so much, we had no choice but to wait. Our family tradition is to decorate the tree together, so that won't happen until John returns home from his business trip. I suppose it wouldn't be a good idea to leave it undecorated, though I'm tempted to.
Recently at a party we were asked to share a favorite Christmas memory with everyone. We immediately thought of our first Christmas together as a married couple. We were poor college students then and couldn't justify blowing the budget on a tree until we were sure John would be employeed after graduation. The job offer came and we celebrated by shopping for a tree. With only $20 to spend, it was a challenge to find a fir tree (Scotch Pine would not satisfy my Vermont husband) that we could afford in South Texas. We finally found a beautiful tree with only one flaw--the top 1/3 of the tree was broken off! To balance out the missing top, I bought a large plastic doll with golden hair at the dollar store and transformed it into an angel. The only real money we spent on decorating the tree was for the lights. What a sight that tree was! Yet, it will always be our favorite.