I've been looking for some black and white yarn for a hat I want to knit for a gift. I had in mind to get superwash wool or maybe a wool/acrylic blend. Something that won't shrink if thrown in the washer. I've been to several shops, but I haven't had any luck in finding something like that in both colors.
Yesterday I was in Lake Charles, Louisiana. I decided to continue my search for this elusive yarn at a yarn shop I saw listed in my yarn guide. Armed with the address, a map and a phone number, I navigated my way through the town and found the building. One problem, though. It was empty. Had they moved? Closed down? A call to the number got me a recording with the name of the shop and operating hours and a message to call back because they were probably on the phone. I called back numerous times throughout the day, but all I got was the same recording. I suppose they are out of business, but why is the phone still connected?
I decided to check out Hobby Lobby. No luck. Next on the list was Michaels. I haven't been in this chain craft store in a while. I was really surprised to find that they are now carrying
Patons Classic Wool
. This is 100% wool and requires handwashing, but is so affordable (only $4.99 a ball) that I decided it would work.
Began the hat last night, just to see how the yarn knits up.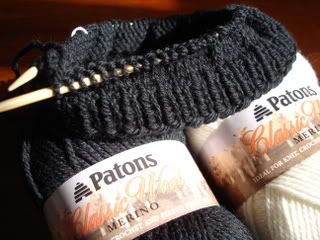 I really like it. It's a smooth worsted weight yarn. Soft. Not scratchy. The hat will not take long to knit, but I won't show it finished until after Christmas. I can't completely spoil the surprise now, can I?