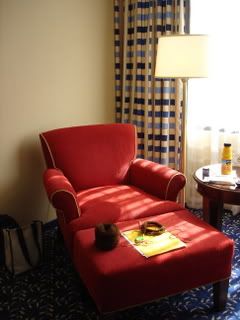 Thanks to everyone for the comments on the booties from the last post. I like to respond to all comments with a personal note, but not every comment is linked to an email address. So, thank you to everyone I couldn't reach.
This week I'm traveling with John...again. It's going to be like that at least until Thanksgiving. We're in Duluth, Georgia (near Atlanta). This trip has been a good one for getting some knitting done. See the knitting in the picture above? That's the beginning of my cardigan. I spent most of yesterday afternoon and evening in that chair just knitting and enjoying it. My plans for this afternoon will include more of the same.
Stopped in at Panerra Bread for lunch and to use their free wi-fi. Can't justify spending $10 a day for Internet access at the hotel when I can get it for free. That's money that I could use to buy yarn! Which by the way, I did. Full disclosure when I get back home. Until then, happy knitting.