The weather sure can change in a hurry. Woke up to rain, wind and cold temperatures (high 40's).
Attended
church
in Milton. I was totally surpised to find that one of my
Free Home Bible Study
students is a member of this congregation. We had just exchanged emails a couple of days ago and neither one of us knew we would end up meeting each other. I didn't even know she lived in Vermont. Small world.
Forgot to mention in yesterday's post where we're staying. We are at the
North Hero House
.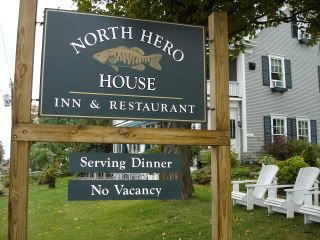 It's a quaint little inn just like you would expect to find in Vermont. Our room is on the second floor and faces Lake Champlain. There's even a porch off of our room for sitting and viewing the lake, but it's too cold for that today.
However, some people (noteably fishmen) cannot be stopped by bad weather. John was determined to fish no matter what. Mark went with him, but Sue and I stayed behind where it was warm. The guys left us a car, so after a while, we ventured out. I bought some McIntosh apples at Apple Farm Market in South Hero. The one's that are sold in the stores at home are never fresh, but these are the real deal.
Lake Champlain from North Hero House.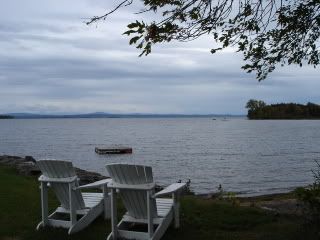 Hoping for better weather tomorrow as we drive across the state to get to the airport in Manchester, New Hampshire.
To be continued...