Knitting this week has been interrupted by travel. John and I drove to San Antonio Monday for another meeting. Our stay was unexpectedly cut short and we had to drive to Port Arthur on Tuesday. Returned home yesterday afternoon. Many hours were spent in the car. Though this is prime knitting time for a lot of knitters, I've discovered I don't really enjoy it. The yarn and needles stayed packed most of this trip.
The only knitting to show is the swatch for the
cardigan
(pattern #241) I'm planning to knit.
Looks like the gauge is just right. Now all I need to do is find some time to get started.
Matt is coming home for few days! Haven't seen him since August, so I'm looking forward to his visit. The upstairs is still pretty much like he left it--in need of attention. Think I'll be concentrating on housework today.
Last night we were treated to a beautiful Texas sunset.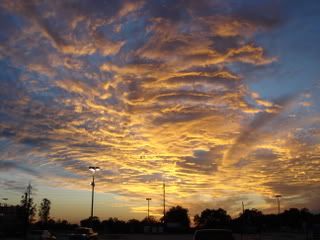 Psalm 104:24
O Lord, how manifold are they works! In wisdom hast thou made them all: the earth is full of thy riches.