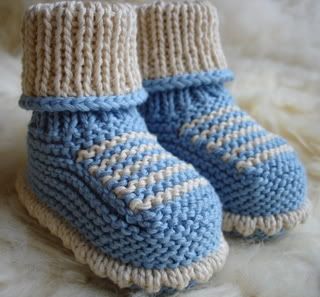 Pattern:
Stripy Bootees from
50 Baby Bootees To Knit
by Zoe Mellor
Yarn:
Cascade Yarns Pima Melange (100% Pima Cotton)
Needles:
US 2
Size:
3-6 months
I made these at the request of a friend who wanted a special gift to give to a new mom. She told me what size to make and that they were for a boy, but left the pattern selection up to me. I immediately thought of these shoes, since I'd made them before. I remembered that they were cute and that the mom I gave them to said they were the only booties that would stay on her baby's foot. The only thing I didn't remember was how long it takes to knit them. This pair took me fourteen hours. Normally that wouldn't be such a big deal, except I really wanted to start knitting my cardigan. Maybe I'll be able to start it this week.