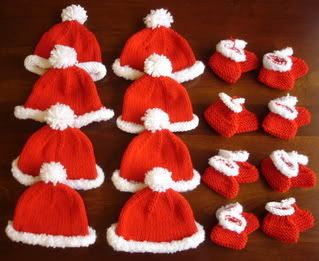 I've reached my limit. Eight
Santa hats
with matching
booties
for
The Preemie Project
. I began the first hat last Monday (though I didn't post about it until Friday) and finished the last pair of booties this morning. Each set represents three hours of knitting. I consider this time well spent. Knitting for others gives purpose to my passion.
For the rest of the week, I'll continue
Knit Unto Others
by working on a bereavement set (also for
The Preemie Project
). I haven't decided which pattern to use yet, but I have decided on the yarn: Plymouth Dreambaby. I was lucky enough to leave the 300th comment on Megan's blog,
Woolly Interlude
, and win this great yarn along with some beautiful Lorna's Laces.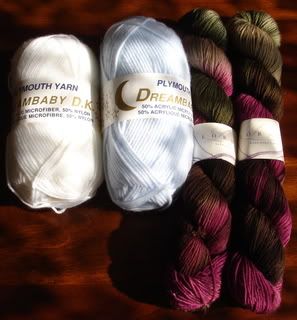 Thanks, Megan! You must have handpicked this especially for me. It will be put to good use.