Have you looked at your collection of knitting needles lately? There are so many different types and styles out there and the great thing is that it doesn't really matter what kind you use. You could be knitting with pencils and no one would be able to tell by the end result of the garment. Since needles are really a matter of preference, they might say something about the person using them. I think mine do.
Donna of Random Knits
is asking us to share our needle stash, so here's mine.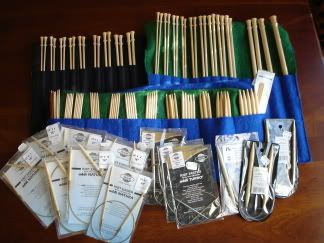 Can you tell I like things simple and natural? Brittany birch needles are my favorite. I have a set of 10" straights from size US3 to US10.5 and a set of 14" straights from US4 to US17. Most of my dpns are Brittany also, ranging from US2 to US13, but I have a set of Lantern Moon size US1 and Skacel size US0. When it comes to circulars, my favorite is Addi Natura. These are bamboo needles with the same flexible cable as Addi Turbos. I may be one of the few that would choose the bamboo over the turbo. The clicking sound of metal gets on my nerves a little. So, what are you knitting with?