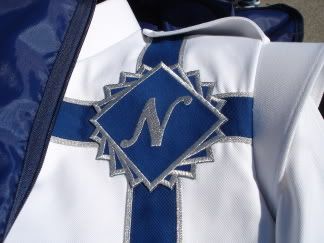 This is my last year as a band parent. My last year to attend UIL Marching Contest. I will experience a lot of these "lasts" this year because my youngest is a senior. Today all the band's hard work came under the scrutiny of three judges in one performance. It was an important day.
I suppose everything started as it usually does. A run-through of the show on the home field before loading the buses to head to Victoria two hours away. Needville's band marches 120 which is large for a AAA school. It takes three yellow school buses and an equipment truck to transport all the students and gear. Before the band even got out of town, the truck loaded with the instruments broke down. My husband and I were already on the road and kept getting updates from our son over the phone. "We're trying to locate some trucks and trailers to haul the instruments." Then, "We're on the road. The instruments will come later, so our performance may be delayed." And the last phone call, "We're almost there. They say we will perform at our regular time. We have to head straight to the warm up room as soon as we get there."
I know the kids, the directors and everyone involved were feeling rushed and stressed. I was nervous for them. But when they took the field, they looked sharp.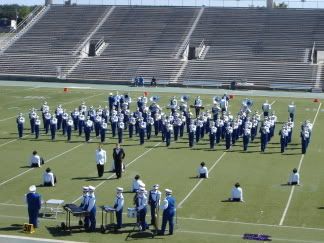 Normally I watch the band perform as a whole, but today my eyes were on my son. I watched as he directed the band and hardly noticed anything else. He was awesome! The band left the field after the performance and we went to wait with them for the judges' scores. No one in the band was smiling. Did they mess up or something? I wasn't really paying attention. Then, I realize they are just nervous. It's hard to smile when you're nervous.
Finally the band director delivers the news...straight ones. An unanimous superior rating!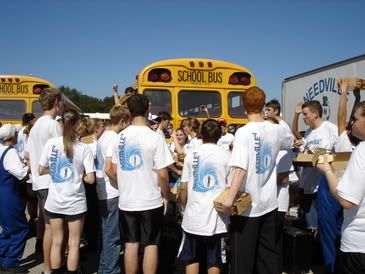 Congratulations Bluejay Band!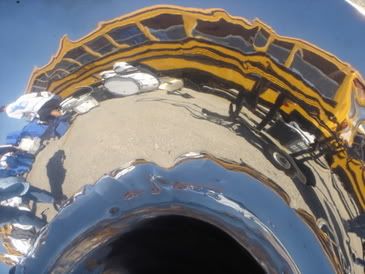 Friday's football game: Needville 36, Palacios 9. Could this be a play-off year? Two games left.