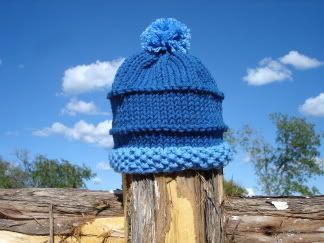 This is another hat I loved making. It is simply called
Knitted Newborn Hat
, though I will always think of it as the Blue Sky Hat. I used Cotton-Ease for the yarn and size US 7 needles. The pattern is written for straight needles, but I adapted it to dpns. My hat will fit a 6-8 lb baby. I'll be making this one again.
The day I took this picture was the day many people were venturing out to see the damage and destruction that hurricane Rita had caused. The same storm that brought angry clouds to parts of Texas and Louisiana also produced this beautiful sky in the Texas Hill Country. What a sharp contrast. Something like the way I was feeling. Grateful to be safe and to know our town was spared. Sad and concerned for those that were not so lucky. Humbled is a good description. I tried to capture the beauty of this sky in pictures. I'll share a few later. But for now another picture of the Blue Sky Hat: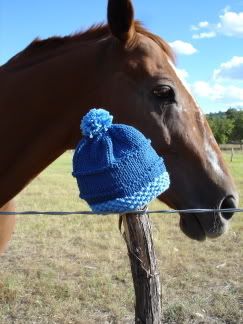 My idea with this picture was to get a good shot of the sky in the backgroud, but the horse came over to investigate. I was afraid he would eat the hat so I took the picture really fast. A better shot than planned. And, the hat was safe. All he wanted was for me to pet him.