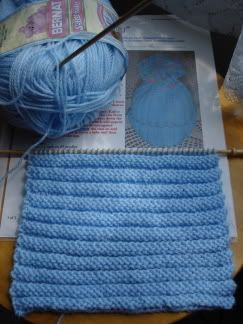 This hat is simple to knit although it seemed to take longer to make than some. It is a repetition of three rows (knit, purl and knit). Using Bernat Baby Softee and size US 5 needles, I cast on 36 stitches and worked the pattern even (no decreases) until it was as big as I wanted. After binding off, a simple whip stitch joined the cast on edge to the bound off edge. I now had a tube of ribbed fabric. To close the top, the pattern says to "thread tail onto tapestry needle and gather top tightly and secure tail". This is where I changed things. My hat would have been too tall otherwise. So, instead I ran a thread through the ribbing about an inch down from the top, gathered it tightly and secured. I then added a twisted cord as an embellishment and folded up the cuff. Here's how it turned out: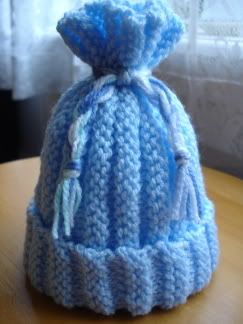 I like this funnel style even better than the original hat! This hat will fit a 6-8 lb baby, but you could easily adjust the
Tea Cozy Hat
to fit any size head.