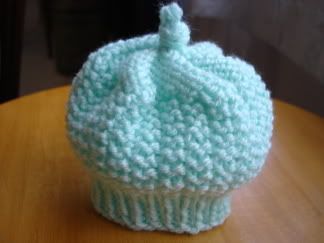 I want to thank
Ruby
for directing me to the pattern for this cute hat. I saw it on her blog the other day and decided to give it a try. This hat comes in two variations. The version I made is called
Seed Stitch Hat
. This is a good pattern that I will use again. I made it according to the directions and ended up with a hat that will fit a 3-5 lb baby. I think it looks a little like a muffin from the bakery.
There are lots of free patterns on the internet for preemie hats. I know, because I have collected a binder full! So this week's knitting focus will be to test some those. I'm calling it
New Hat Week
. I will knit only hats that I have never tried before. I hope they all turn out as cute as today's hat. We'll see. I can't guarantee a new hat everyday, but I'm going to try. I leave you with a picture of Monday's hat as viewed from the top. The decreases create a pretty spiral.