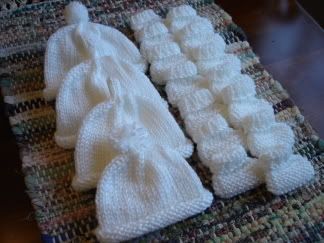 The shawl has been on hold for a few days while I've been knitting hats and booties for
TPP
. A last minute request went out to volunteers to make just a few more so we could meet our September target. We were also asked to make large sized blankets which we were low on. The response was good and assignments were made. I am confident we will complete our goals. Every two months we will try to provide 136 hat/bootie sets and 125 blankets to The University of Iowa Hospital and Cinics. We were told that 800 babies come through their NICU every year. It is our hope to provide each baby with a hat, a pair of booties and a blanket. It's a huge undertaking and we could always use some help.
Laura
delivered our first donation on Friday. I'm excited to hear how that went and to see all the pictures.
The news about the devastation caused by Katrina has saddened us all. Today my husband is traveling to Mississippi with a group from work. They are bringing supplies, physical help and encouragement to fellow employees hit by this storm. Last week it wasn't certain if they would be able to secure gasoline along the way, but that has all been worked out. They will be arriving late tonight and staying for a week. The work will be hard, but they are ready to help in any way they can. I am praying that their efforts will comfort those in need.