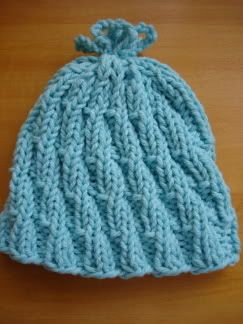 I chose today's hat,
Spiral Preemie Cap
, mainly because it looked like it would be quick to knit. It is. The only changes I made to the pattern were to use size US 7 needles and to add a crocheted chain topper similar to the one
here
. This cute hat will fit a 3-5 lb baby. And just in case you were wondering, the yarn I used is Lion Brand Cotton-Ease, but any worsted weight would do.
I have the next hat already started, but I'm not sure it will get finished today or even posted. I live near Houston and as you have heard, hurricane Rita is heading our way. Today I will try to get things prepared for us to leave. We are not in an evacuation area, but HIGH winds are expected here and we're not interested in staying around to see that. Pray for those in the path of this storm.