Finding ourselves with nothing pressing to do on Saturday, we decided to take a drive to Palacios, Texas. This small town is right on the water and not too far from our house. Our plan was to check out the RV camping sites for future trips and to ride our bikes along the bay in the evening when it wouldn't be so hot. John brought along his fishing tackle and I brought along the Trekking sock (color #115)...just in case.
I was able to knit in the car while John drove. Once I dropped a stitch which just happened to be holding three stitches from a K3tog. Yikes! John pulled over on the shoulder so I could recover these without making matters worse. All ended well and when we arrived in Palacios, we stopped to take this picture of me and the sock near the shrimp boats.
We located an RV park we liked and then explored a few shops in town. It was about 3:00 after all that and still too hot for a bike ride or a trek of any kind really, so I found some shade under a pavilion and set up for knitting and reading.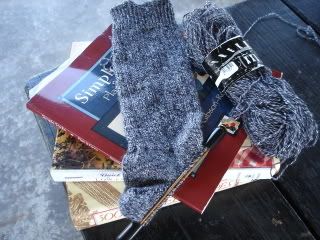 John fished from a small jetty nearby.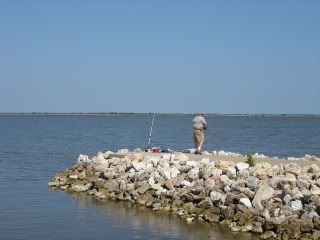 A funny thing happens when he begins to fish--he loses all track of time. It was late when he finished and though cooler, we were both hungry so we went to eat instead of riding bikes. Is it an official trek if you don't get any exercise? Oh well, next time.