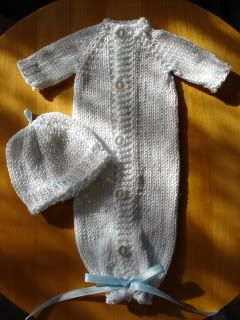 I've been working on a few more things for
The Preemie Project
to bring with me on my trip to Iowa later this week. This bereavement bunting was designed by
Debbie
, one of TPP volunteers. I've been wanting to try it for a while and finally found the time. It turned out so well! I followed
this pattern
as written for the smaller size except for using a fingering weight yarn (Ornaghi Filati Baby Cotton, 100% mercanized cotton) and knitting a ribbed cuff on the sleeves. This tiny bunting will fit a baby weighing less than one pound. Debbie designed the side with the buttons to be the back, but I like it for the front. I wonder which way the nurses will use it?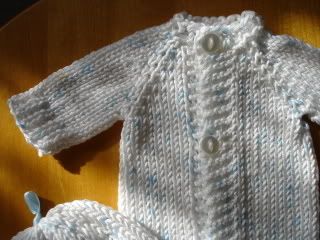 In other news, Matt is spending a week at camp, so we're finding out what an empty nest feels like. In less than one month he will leave for college and this will be the norm. It's not the first year he's been to camp, but John and I usually take a vacation at the same time so we're rarely home when he's gone. This week is sort of a trial run. Big changes are ahead, but I think we are prepared.
Also, you may notice some sunshine in the pictures above. This make me happy. Sunny skies have been a rare thing here lately. It rained almost every day in June. And July has started out with more of the same. So unusal for Houston this time of year. It's true we needed the rain, but we are all craving sunshine now. Of course, with sunshine there will be heat. It'll feel like a sauna outside before the day's over. The mosquitos are really bad right now too, so pack some insect repellent if you travel this way. The stores are likely to be sold out.