Mad About Ewes Fiber Arts Studio
in Lewisburg, Pennsylvania sells yarn for knitting and fiber for spinning plus accessories for both, including spinning wheels. It was the perfect place for me to pick up a souvenir on our trip last week. I limited myself to fiber, though there was some beautiful yarn that also tempted me. Stop by if you're in the area and see for yourself.
I'm posting pictures of the fiber I purchased mostly for my benefit, but you might enjoy seeing them too. I don't have specific plans for any of this yet. Just feeding the stash and dreaming of the possibilities.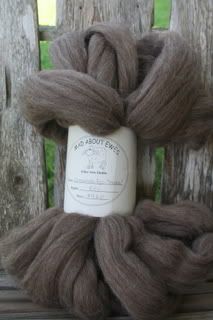 Corriedale Top, 8 0z, Mocha (natural color)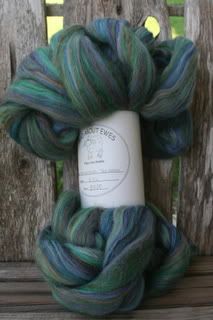 Colonial Multi Top, 6 0z, Sea Green
Colonial is a Rambouillet X.
Rambouillet X Roving, 7.4 oz, Lilac
Processed by Red Barn Fiber, Colorado