Laura's seed square
is bearing fruit at my house. Check out what's in the garden.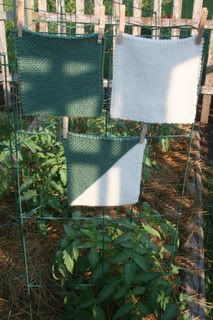 Three squares for
Rebuilding Greensburg -- Block by Block
.

As I was knitting these this weekend, I wondered what it would be like to lose everything? What would I miss the most? How attached to material things am I? I'd like to think that I'm not that attached, but I don't think you can truly know what it would be like until it happens to you. The people of Greensburg, Kansas know. Many are starting over from scratch. Laura's project is a way to encourage them and to say we care. If you want to help out with the effort, click
here
for all the details. There have been a few changes since I linked to it the last time: it's now even easier to use the yarn you have in your stash.