Behind the dunes of Matagorda Beach is Three Mile Lake. We spent a lot of time there on Saturday. John found it to be a good spot for fishing. In fact, that's where he caught the flounder. While he fished, I took pictures. Normally, I would have brought a sock to knit or a book to read, but I came empty handed on this day. So once I thought I had exhausted all photo opportunities at this spot, I just sat in the chair near the truck and took in the sights.
I sat there for a half hour or so. I have to admit, I was getting a little bored. Why did I not bring a book to read or something to knit? Restless, I decided to walk some more. I had gone about six feet from my chair when something in the tall grass made a loud noise that scared me to death. My immediate thought was that it was a snake (that's always my first thought), but I had only flushed out a bird. I went looking for the nest I knew had to be there. I walked carefully and searched every inch, but didn't see anything until another bird flew out of the grass right in front of me. You know the saying, "If it were a snake it would have bitten me." Yikes!
This bird was on the nest which was right in the open, but very well concealed at the same time. Hidden in a tuft of grass were four eggs. They were larger than I expected, about the size of chicken eggs.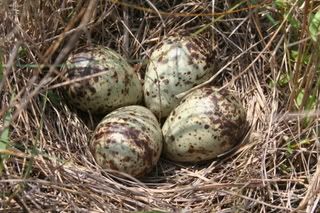 The birds protecting this nest, which I believe to be Willet Sandpipers, are very plain at rest and blend in well with the grass.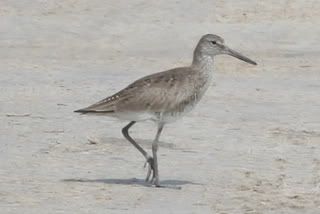 In flight, the Willet looks like a completely different bird, with a distinct black and white wing pattern.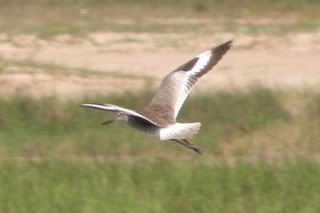 If I had been knitting, I would have totally missed this discovery, which was the best of the day. I guess it pays to put the needles down once in a while.
And the real reason I didn't have a sock with me to knit? I had just finished a pair the night before.
This brings my total number of socks knit to 13--a baker's dozen.
Pattern:
Basic Stockinette Sock worked on 64 stitches
Yarn:
Opal Rodeo
Needles:
US 1 dpns