Inspired by a stash Lion Brand Cotton-Ease (discontinued colors) and
Susan B. Anderson's
wonderful book,
Itty-Bitty Hats
, I knitted up some preemie hats for
TPP/Michigan
. If you like color, you're going to love these.
All hats were knitted in the round on size US 7 DPNs on 48 stitches. Decreases started with K6, K2tog. I worked two rounds of decreases, then worked the stitches even for two rounds and continued reducing stitches in this manner until there were three stitches left. Then, knitted an I-cord for a little topper and tied it in a knot.
These two stripy hats are preemie-sized knockoffs of Susan's Cotton Stria Stripes (pg. 96), but with different shaping.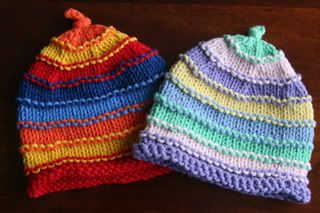 The inspiration for these next hats is Rainbow Marley (pg. 102): a combination of stripes and texture created by garter stitch and seed stitch.
These little square hats need no shaping. I used a three-needle bind off to close the top, but you could also use kitchener stitch. Susan has two versions of a square hat in her book (page 116 and 118). She adds cute embellishments, which I left off, but I did incorporate a little color on the edge (in my own way) and used a seed stitch band instead of a ribbed cuff that I've used before with
this pattern
.
The hats I came up with are similar to those in Itty-Bitty Hats, but not an exact copy. If you enjoy knitting hats for babies and children, be sure to check out the book. It's loaded with adorable patterns and inspiration.
P.S. I'll be without Internet access for most of next week, so don't worry when you don't hear from me. I'll check back in as soon as I can. See you then.