BEGINNER YARN
The wheel was humming last week. My spinning is improving and I tried plying for the first time. All but one skein of the yarn pictured above was spun last week. The yarn on the far right was spun when I first set up the wheel last month. Can you see the improvement? I can and it's encouraging.
I enjoyed plying. My wheel has a lazy kate on board, but I took the advice of
Patsy Zawistoski
and placed my bobbins in two dishpans on the floor on either side of me. The weight of the bobbins helped to tension the yarn as I plied it. The dishpans kept the bobbins corralled. The yarn had been spun for several days and I didn't have much trouble keeping everything under control.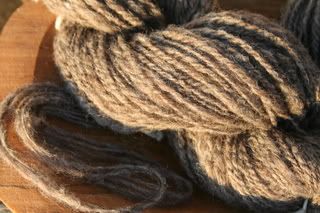 I thought about leaving the yarn I had spun back in December as a single, but when I saw how nicely plying balances out inconsistent spinning, I decided to give it a try. I had already skeined it up however, so I put it on the swift and wound it into a center pull ball. I then plied from both ends. This worked well also.
The only trouble I ran into was when I decided to spin up the last of this particular roving and ply it that same day. There was just enough to fill one bobbin, so I plied from a center pull ball. It was difficult to work with fresh off the bobbin like that. The ends kept twisting together and I broke the yarn in a few places where I hadn't spun it tight enough. I think next time I will let it rest a few days before I ply.
I'm finding this learning process to be so much fun!
NEW FIBER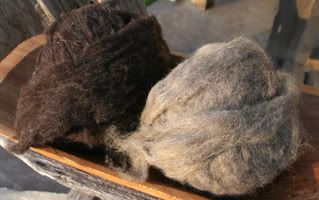 One of John's coworkers, Amy, gifted me with these two balls of roving. I was very excited when he came home with them. It was a complete surprise. Amy said she has a whole garbage bag of roving that her mother gave her and she wanted to share some of it with me. Her mom used to do a lot of crafting and would use the roving for hair and beards on dolls that she would make. She bought the roving from a woman in Oakland, Illinois who raised her own sheep. I'm not sure what kind of the sheep this wool is from. All of the tags that came with the roving are missing now, except for one that said the wool was from Bessie.