Last week a business trip brought us to Oklahoma. We were close enough to drive over to Edmond for the weekend to visit with Matt and meet some of his friends. He wanted to cook hamburgers in the park.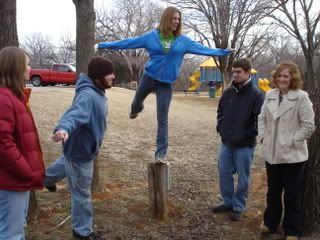 The weather looked promising, but clouds rolled in and it was a bit cool for a picnic. By the end, we were all huddled around the hibachi for warmth.
We moved the party to the
OC
student center and spent the afternoon playing guitar and singing. It was a lot of fun. The burgers were good and the company was even better.
And of course, while we were right there, I stopped in at
Mountain View Weavery
. I was sorry to learn that Wanda's husband is seriously ill. Because of that, she is getting out of the business and has sold her inventory. Soon the weavery will be moving to Guthrie and will be called
Weavery at Indian Meridian
. I was still able to shop though as nothing has been moved yet. I bought some wool for spinning.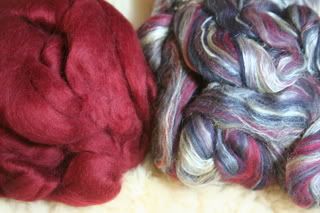 Dyed Corriedale on the left and Gaywool Merino Silk 85/15 on the right.
I'm going to save the silk blend for when I'm more experienced with the wheel. The colors are gorgeous, though it's hard to tell from the picture. No sunlight here today and probably not much all week. I'm beginning to get a bad case of spring fever.