007 Snap a Dozen Days
Trail Riders
Damon, Texas
The month of February is best known for Valentine's Day, but here in Texas, it is also known as the month that kicks off the
Houston Livestock Show and Rodeo
. It all begins with the trail rides.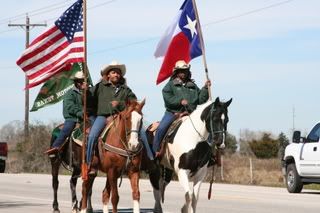 In 1952, four men rode on horseback from Brenham, Texas to Houston as a way to promote awareness of the Show. Now, over 4000 riders hit the trail as a part of thirteen trail rides that make their way to downtown Houston. The longest of these rides is 386 miles. It starts in Hildalgo, Texas and lasts for three weeks. That's a long time on a horse!
The group I photographed is the Southwest Trail Riders Association. They started their ride in Rosenberg on Saturday, February 17 and rode ten miles to Needville where they camped for the night. On Sunday after lunch, we found them on Highway 36 in Damon about five miles from Needville. It's slow going on the trail. It will take them a week to make their way to Memorial Park, downtown Houston. There they will join the other trail ride associations in a big parade on Saturday.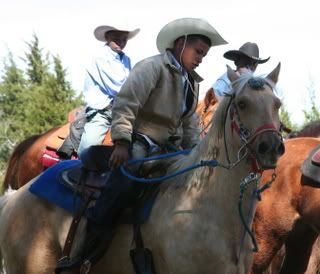 Horses and wagons don't look too out of place on country roads, but wait until they get to Houston. There they will be riding in the shadows of modern day sky scrapers and sharing the freeway with thousands of cars and eighteen wheelers. It's quite a sight! A one of a kind Texas experience.