I decided to knit the rabbit from
Natural Knits
and sew a receiving blanket for this last baby gift.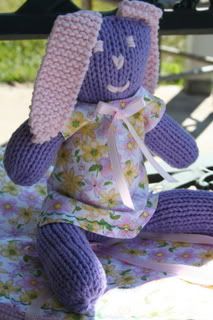 Though the stuffed animals in the book are not dressed and look cute that way, I thought the one I made looked unfinished and well...naked. So, I decided to attempt to sew a dress for it. Surprise, surprise, it actually worked!
I placed the knitted rabbit on a piece of paper and traced around the body with a pencil. Then, I drew a simple dress large enough to cover this shape. Using some left over fabric from the receiving blanket, I cut out the dress and somehow bungled my way through the rest of it. I don't have much experience in sewing clothes, so I know I went about most of the construction the hard way, but it worked and I'm happy with it.
Sewing this dress reminded me of the summer my grandmother made three wardrobes of Barbie Doll clothes for me and my two sisters. She made about six outfits for each of us. Unlike me, she is a very experienced seamstress. She drew out her patterns on brown paper grocery store sacks and constructed dresses, skirts, and blouses much prettier than store bought. My favorite was, of course, the evening gown. It was pale yellow satin, strapless, with a fitted bodice and a full skirt. Underneath was a petticoat of net that held the skirt out just right. Those Barbie clothes brought me many hours of fun and now that I've had a little taste of what it's like to sew something in a similar way, I appreciate them all the more. I doubt I have all them, but if I dig deep enough in the closet, I know I will find my old Barbie still dressed in my favorite yellow gown.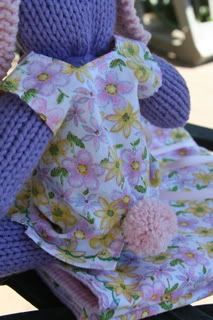 Pattern:
Cat, Rabbit, and Teddy Bear from
Natural Knits for Babies and Moms
by Louisa Harding (dress pattern not included)
Yarn:
Lion Brand Cotton-Ease
Colors (discontinued):
Sugarplum, Strawberry Cream
Needles:
US 6
Knitting and Sewing Time:
3 days