There have been several families at church that have been blessed with new babies. I'm a little late with a some of the gifts, so I considered giving something store bought, but John convinced me to knit something as I usually do. I'm glad I did, because this vest was a lot of fun to make.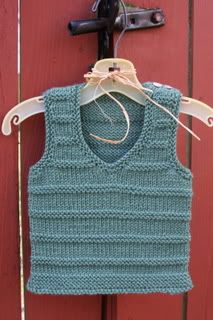 Pattern:
Oz Vest from Natural Knits for Babies and Moms by Louisa Harding
Yarn:
Lion Brand Wool (less than 2 balls), worsted weight, 100% wool
Color:
123 Sage
Needles:
US 4 and US 5
Size:
Up to 6 months
Time to knit:
One weekend
I didn't use the recommended weight yarn (DK) for this project, so I had to play around with the needle size and the cast on stitches. I ended up casting on the number of stitches (45) recommended for the newborn size, but working the length for the 6 month size. I used the smallest needles I could manage with worsted weight yarn without it becoming too difficult to work with. The results were just what I was hoping for.
This was the first time I have used the Lion Brand Wool yarn. I liked it and will use it again. The price is right and it's sold at a store that is closer to my house than any of the "local" yarn shops.
The vest is knitted in two pieces: front and back. It's easy enough for a beginner. The most difficult skill would perhaps be picking up stitches along the neckline and armholes. There is some seaming of course, but not too much because it's such a small project.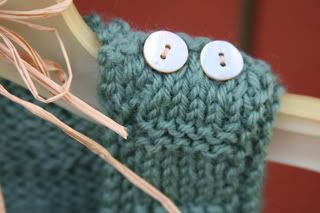 The buttons on the shoulder insure that this vest will be easy to put on and take off. I robbed these buttons from an old shirt of mine that doesn't fit well anymore and isn't in good enough shape to give away. Recycling is a good thing.
The garter stitch rows are left unsewn to create a vent. It's a nice detail.
The next two baby gifts I need to make will be for girls. I'm currently working on a cute little dress from the same book this vest is from.