Friday night's rain was still lingering around on Saturday morning, so John and I decided to go to Sugar Land (Houston suburb) for a little shopping and lunch. I was enjoying our time together, but all the traffic and people were getting to me. Shopping is a chore that I just don't enjoy. I was getting grouchy and wishing I was some place else. So even though the weather was not cooperating, we decided to drop off our purchases at home and escape the city. It was just what I needed. The skies even began to clear and so did my mood.
We decided to check out
Big Boggy National Wildlife Refuge
. The only road in is unpaved and deserted.
It was just us and a few cows.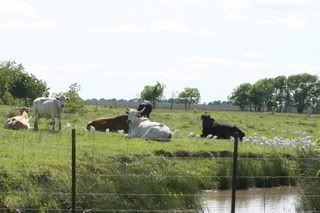 Have you noticed that most of our trips end up at the water? There was no fishing this time though.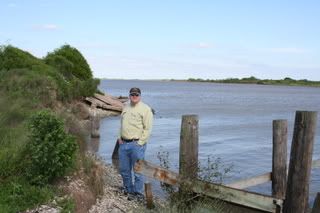 Next we drove to Matagorda to check out the sights. We discovered a very nice
RV park
on the Colorado river within walking distance of the big pier and the jetties on Matagorda Bay. We are coming back soon with the trailer.
We walked out on the jetty, but the wind was blowing so hard, we decided not to go out too far. A few times it almost blew me over.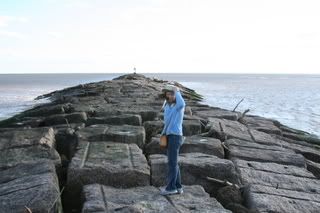 Matagorda is on the
Great Texas Coastal Birding Trail
. We saw herons, pelicans, seagulls and many other shore birds. I took pictures on my little camera, but none of them turned out that well. John used the digital SLR and got some
good shots
.
Next trip we'll explore the beach and maybe even do a little kayaking through the wetland trails. And there will surely be fishing for John.
P.S. Fishtail Scarf is pinned out and blocking. Pictures soon.