This week we had our house painted. It looks fresh, clean and new. But you know what that means--everything else looks shabby next to it. So I had to buy a new door mat.
And a fresh new pot of flowers.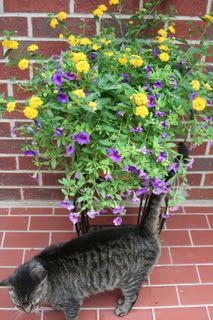 Just to spruce things up a bit.
I even tackled the back porch, scrubbing everything down except the dogs.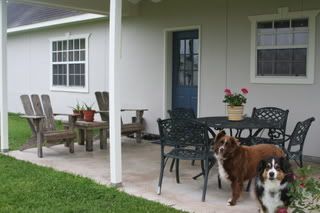 There is still much to be done inside and out, but that means I'm going to have to put the needles down, turn the computer off and get to work. Every closet and drawer in this house needs to be cleaned out. My summer project will be to go through all of our stuff and simplify. My goal is to have everything in shape by the end of August. I know I can do it, I just don't want to.
I will still knit (and spin), but not as much. I think I'll focus on small quick knits for the instant gratification factor. This will be a good opportunity to build up a stash of baby gifts. It seems there is always a baby shower to attend and lately I've been scrambling at the end to get something made. This week was one of those times. I started a couple of pairs of booties that didn't work out, then a bib pattern that stumped me and a pair of socks that didn't work with the yarn I was using. I knit for two days straight with nothing to show for it. Finally I found a lace sock pattern that was just right for my yarn.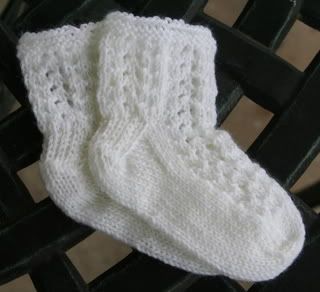 Pattern:
Baby Eyelet Socks
Yarn:
Patons 4 ply baby yarn
Needles:
US 2 DPNs
Size:
Toddler (6-18 months)
Changes:
I used larger needles and added an extra pattern repeat to the leg.
Hopefully I'll get pictures of my scarf this weekend.