Virginia Kromski and I have been spinning wool again. We've become fast friends in the last week, spending brief sessions together each day creating yarn. I feel so comfortable with her now, that I've begun to use her less formal name, Ginny.
Ginny and I have been working with wool from
Wasatch Watercolours
. It's the first time I've spun anything hand-dyed and it's added a bit of interest to the process. Watching the colors shift and change is very entertaining. Picturing how the yarn will eventually look with all the colors plied together is a mystery and I do enjoy a good mystery.
Being a novice spinner, I don't always know the best way to proceed. So as you're reading this, keep in mind that what I'm doing may not be "right". I'm not pretending to know what I'm dong here. I'm just having fun.
I began by dividing the 3 ounces of roving into several smaller amounts. First I split it down the middle lengthwise, then I split those sections in half and continued doing this until I had many narrow strips of roving. I rolled these up and kept them handy by my wheel.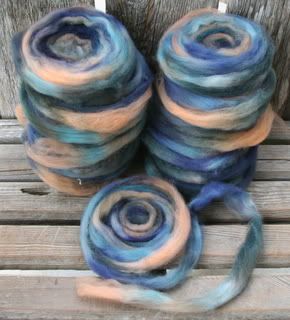 I predrafted each section of fiber as I came to it. Predrafting makes actual drafting easier. I took a picture of a predrafted strip. I hope you can see how light and airy it becomes. The fibers are able to slide easily now, because they are already started.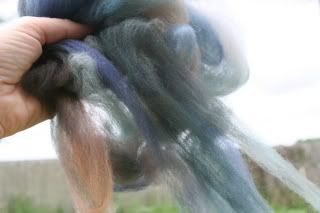 I got tired of preparing the fiber like this though, so halfway through the roving, I dropped this step. I was happy with the results. My drafting skills have improved enough that I didn't need to predraft, at least not with this roving which is well prepared to start with.
I limited each spinning session to about an hour or two each day. That's just the right amount of time for me now. Any longer than that and I become careless and sloppy. It's better to quit and come back to it later, fresh and sharp. Eventually all the fiber was spun.
I can see a lot of improvement in my spinning. This time I was able to control the amount of fiber drafted in a more consistent manner. The resulting single is thin and nearly uniform.
I started plying yesterday and should finish up today, so check back later for the final product.