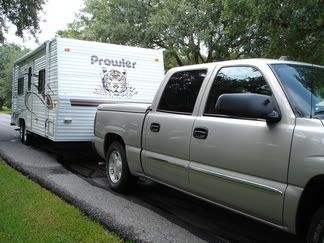 Another adventure in trailering begins tomorrow. Something interesting always happens. Most trips start out with rain (floods even). And a couple of them have involved break downs and tow trucks. No matter, they have all been fun. We've had our trailer for almost a year now. Until then, my husband could never convince me to go camping. I love the outdoors. I just hate sleeping on the ground. Now we take all the conveniences of home with us. Can you really call that camping? Probably not.
We are heading for Estes Park, Colorado for a family reunion. Can't wait to spend time in this beautiful place. Besides catching up with the family, we will do a little hiking in Rocky Mountain National Park. Of course since we are flatlanders, we will probably have to stick to the easy trails. My husband and son plan to fish every day. I plan to check out some yarn shops and work on some knitting for
The Preemie Project
. So, don't worry if you don't hear from me for a while. I'll check in when I can. There is sure to be free wi-fi somewhere.
Time to go load the trailer. Colorado here we come!