We made it home yesterday evening. It's good to be back. We had a great time and took lots of pictures. Maybe I'll share a few of my favorites on days when there isn't much knitting to talk about. But today I want to show you what I found...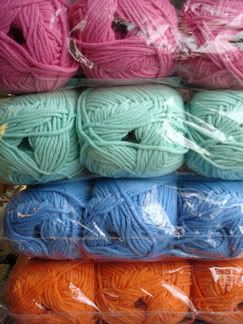 ...the famous discontinued Cotton-Ease. We got off the interstate in Salina, Kansas to eat some lunch and as luck would have it, there was a Tuesday Morning store in the same shopping center as the restaurant. I was very happy to find that they had some orange yarn so I can make pumpkin hats for
The Preemie Project
. Of course, I had to buy a few more colors. It's hard to pass up half price yarn.
I did a lot of knitting in the car on our vacation. I was able to knit two small blankets, a preemie gown and bonnet. There is still some finishing work to do on these and I want to knit some booties to go with the gown. So, pictures and details will be for another day. Right now it's time to unpack, wash clothes and catch up on everything that happened while I was away.