You probably didn't know that I'm a huge baseball fan. My favorite team is the Atlanta Braves. So when John had to go to Atlanta for a meeting this week, I tagged along and we were able to attend the Braves home opener. We had great seats!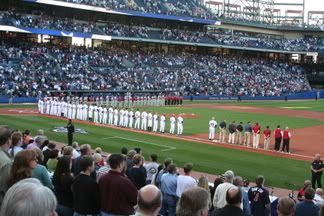 It was my first time at Turner Field and I took in the sights. I love the Coke bottle.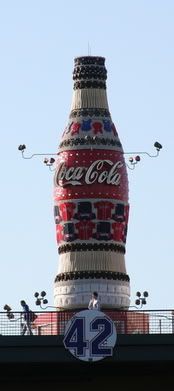 Look close and you can see it's a collage of all kinds of baseball gear--bats, jerseys, catcher's mitts and more. At night it is lighted from the inside. When the Braves hit a homerun, the lights flash all different colors and fireworks shoot from the top of the bottle. We saw this happen a couple of times. The first time was when Andruw Jones blasted one out of the park.
It's very impressive to see all the championship pennants. The Braves have had a good run. I'm hoping they can add another one this year, though I'm not sure how they will squeeze it in.

Fans were showing their team spirit. This guy stood out in the crowd because of his beard, but notice the tomahawk on his glasses and the tomahawk earrings.
It was a fun night and a good game. Braves beat the Phillies, 5-3. Here are John and I at the end of the game.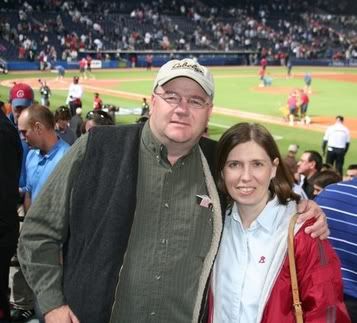 The next day I celebrated by buying yarn. More on that later.