Part of the fun of traveling is checking out the yarn shops in the area. For this trip we were staying in Duluth, Georgia just outside of Atlanta. I consulted my
Travel Guide
and learned that there were a couple of shops in Duluth to check out. I stopped in at
The Needlework House
which was closest to our hotel. It was a great shop for embroidery supplies, but no yarn. The owner said she could order yarn for me, but no longer had any in the store. When I explained that I was visiting from out of town, she said
Yarn Garden Knit Shop
in Lawrenceville had a lot of yarn. It was only a short drive away and was just what I was looking for. I wish I could remember the names of the daughter and mother that own the shop. They were so friendly and welcoming! I learned that they have formed a group through their shop called Knitting For Others and that they regularly donate preemie items to local hospitals. Now that's my kind of shop! They have a great selection of yarn too. Here's what I bought.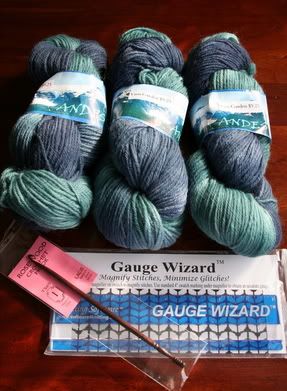 Andes 100% Wool in a pretty color. I'll probably use this for a scarf. A Gauge Wizard with a magnifier that makes it easier to count those tiny stitches in socks and things like that. And, a rosewood crochet hook that was marked down 60%. I love things made of wood. I'm not a crocheter, but I can use it to pick up dropped stitches, also non-metal is great for air travel.
Historic downtown Lawrenceville was such a pretty place. If I hadn't been so tired I would have explored all the little shops. I saw several antique stores that interested me, but I decided to head back to the hotel to rest instead. I never got around to checking out the
other shop
in Duluth. It sounded like it was more of a quilting store that carried some yarn. Maybe I'll stop by next time. I'll definitely go back to
Yarn Garden
though!
There was knitting accomplished on this trip too.
I still need to finish up a few things. The hats are all variations of
this pattern
and the booties are versions of
this one
.
I enjoy knitting while traveling by plane. Preemie hats and booties are perfect for one to two hour flights. When I fly, I'm careful not to carry on metal needles or sharp scissors. I've carried on cheap blunt tipped kid's scissors before and they were allowed, but it slowed me down a little because they had to check my bag when a metal object showed up on the screen. I avoid this now by using the little cutter on a pack of dental floss to break the yarn. This is all I really need for the short time I'm in the air. I pack the blunt tipped scissors in my checked baggage to have later. I never travel with my good scissors, because knowing me, I would forget to move them to my suitcase and then I would have to surrender them.
On this trip I was chosen randomly for a search of my carry on items. The first thing the security agent saw when he opened my purse was a ball of yarn and then under that a toohbrush holder of wooden DPNS. He called them "pixie sticks", gave me the okay and sent me on my way. What else would you expect to find in the purse of a knitter?