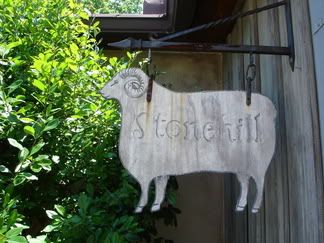 Love this sign. Love this store. It's one of the yarn shops I visited on our trip to the Hill Country.
Stonehill
is in Fredericksburg, just down the road from Comfort. This town caters to tourists with B&B's, restaurants, and gift shops everywhere. Many interesting things to do and see here. Our time was limited so we made the best of it. First we ate lunch at Mamacita's. One of our favorites for Mexican food, especially the homemade flour tortillas, tacos al-carbon and the green sauce. Yum! Then, we headed for the yarn store. Stonehill carries quality merchandise for knitting, spinning, and rug hooking. The lady working the day we were there was very helpful and even showed us how to spin yarn on an
Ashford
wheel. It looked like so much fun that I ended up leaving the store with some rovings and a drop spindle, a book about spinning and a needle felting kit.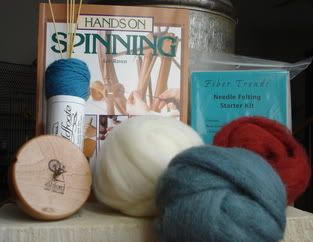 The white roving comes from the store owner's merino sheep. It is so soft! I haven't had a chance to try out anything yet. But, I'll let you know when I do. Oh yeah, I also left with an Ashford catalog...maybe one day.
The other yarn store I went to was
The Yarn Barn
in San Antonio. This is a HUGE store. You really should schedule some time to see everything in here. They claim to have "Every Type of Needlework". This is not an exaggeration. Knitting, needlepoint, cross-stitch, etc.--it's all there. Since I had already loaded up in Fredericksburg, I only bought one skein of sock yarn and some size 0 dpns to knit these
cute baby socks
. I wish I had bought a set of bone knitting needles I saw there. They were reasonably priced at $20 a pair. But, I talked myself out of them, because afterall I really don't need them. Sometimes I'm just too sensible. When I was at the check out counter, I overheard a customer commenting that she had been to a lot of needlecraft stores all across the U.S. and that this store was the best she had ever seen. I got the impression they've heard that before.
Tune in tomorrow to see a little treasure I found in an antique store.