I took a break from knitting to attend this: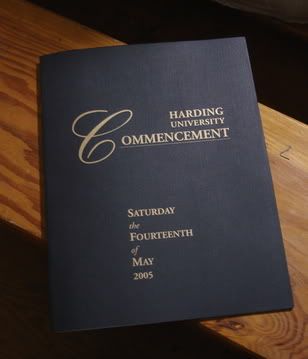 My daughter just graduated from
Harding University
in Searcy, Arkansas on Saturday! Somehow in just four short years she has managed to achieve a degree in two majors (Theatre and English) and a teaching certificate. I am blown away by her ability to carry such a heavy load of classes, be active in various organizations, perform in plays and be married all at the same time. She is an amazingly talented person (a knitter too). Now that she has graduated, what's next? Graduate school, of course. She and her husband are both working on master's degrees and plan to graduate (again) next May. We had a wonderful visit with the two of them. It was so good to have the family together. Unfortunately, this doesn't happen as often as we would like since Searcy is over 500 miles from here. Below is a picture of the graduate on Harding's beautiful campus:
When we returned from our trip from Arkansas this is what we saw on our house: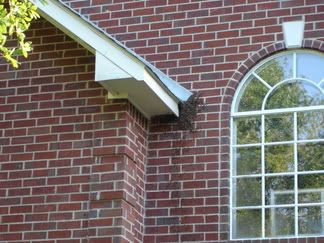 Swarming bees! If you squint a little, you can see them in the corner by the roof line. I couldn't get and didn't want to get any closer for the picture. We were told by a man who knows bees that they were looking for a place for the night and might move along in the morning. However, the bees liked what they found and are still here. So far they don't seem to be the aggressive "killer bee" variety that has been known to attack people and dogs in this area. We have someone scheduled to come take care of them. Hope it's soon.