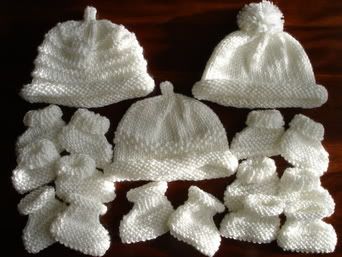 One of the good things about being a volunteer for
The Preemie Project
is that you can knit, crochet or sew the baby items that you like best. It is not a requirement that you make a pair of booties to match each hat you donate.
Laura
takes all the single hat and booties that are donated and pairs them to make a set. Occasionally however, the colors she has don't go together very well, so she will ask volunteers to make hats and booties in white. Several of us volunteered to do this and I was assigned to make three hats and seven pairs of booties in a size to fit 3-5 pound babies. I used
my favorite hat pattern
. I love to change it up a little by knitting a few purl rows or a band of seed stitch. The possiblities for creativity are endless with this hat. For booties, I'm hooked on
this pattern
. These are simple and fast to knit. I can make a complete pair in one hour. Nothing tedious or fussy with this pattern and you can vary it depending on your mood. On some I knitted an eight row ribbed cuff. On others I knitted the ribbing for four rows and then knitted four rows of stockinette stitch to give them a rolled top.
Another good thing about
The Preemie Project
is knowing that the items I've spent time making are being donated as promised. I've donated my knitting to other charities before and have never heard a word back from them. But, there is good communication in this group and I never have to wonder.
Laura
gives us regular
reports
and even lets us know when she receives our box of goodies. It's a good work and I'm proud to be a part of it.
And do not forget to do good and to share with others, for with such sacrifices God is pleased. Hebrews 13:16