Well, I haven't cast on the second Embossed Leaves Sock yet. Instead, I've been working on hats and booties for
The Preemie Project
. Soon I'll be setting up the sewing machine to make little blankets. Our donation deadline is coming up in a couple of weeks and I want to be sure to get a few more things completed by then. I also keep looking at this...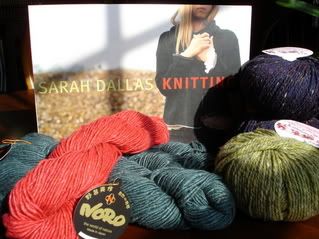 It's some of the goodies I bought with the gift certificate my sister gave me for Christmas. The book is called
Sarah Dallas Knitting
. The yarn is for a couple of projects in the book--mittens and slippers. I'm very tempted to start these now. I also picked up this book...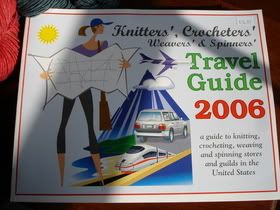 Knitters', Crocheters', Weavers' & Spinners' Travel Guide 2006
It lists literally thousands of yarn shops across the United States and includes information like addresses, phone numbers and websites--all organized by states. I've had fun just reading the names of the stores. Some names are really reaching to be cute. I thought about sharing a few that made me laugh, but that wouldn't be very nice. You'll just have to get a book and check it out for yourself. One thing I know, this book is coming with me on my next trip, because yarn is the best
souvenir. I'm sure you agree!