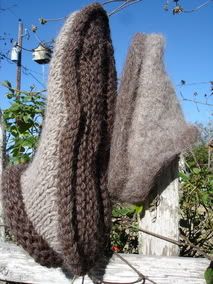 The challenge: to felt the clog on the left to match the one on the right, but first the saga...
Two summers ago, while on a vacation in Colorado Springs, I purchased yarn and a pattern (Fiber Trends) for these clogs. I was a relatively new knitter then, so I let the store owner figure the amount of yarn I would need for the project. She had made these clogs before and even had a sample on display in the store. I trusted she knew the amount of yarn I would need.
Last spring I finally got around to knitting them and guess what? I found out I didn't have enough of the dark color to make both clogs. Oh well, I would just order more and it wouldn't really matter if it was the same dye lot because I could hide a mismatched color on the inside of the double sole if I needed to. First I decided to felt the one clog, just to make sure it was worth the effort and expense. It felted beautifully.
Finding the yarn (Cascade Pastaza) in the right color was more of a challenge than I thought it would be. Finally ordered some though and was happy to discover on it's arrival that the color was a close match. However, the yarn sat in the stash until just a couple of weeks ago.
Now, almost a year later the second clog is knitted and ready to be felted, which brings me back to the challenge. Will I be able to shrink it to the same size as the first one? I took notes on the length of washing time from earlier, but that probably won't help much since I've bought a new washing machine since then.
Well, I don't know why I had any doubts...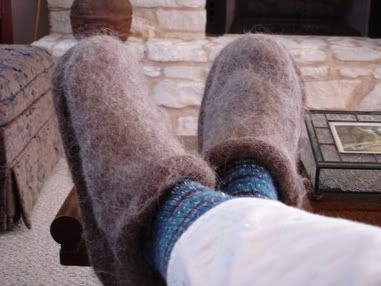 This one took longer to felt for some reason (the new machine maybe?) and didn't felt as evenly at first, but I think it's a good match in the end.