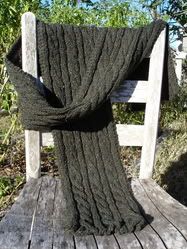 This one's been finished for some time, but I've been slow to post it. John wore it last night and gave it a thumbs up. Here are the details:
Pattern:
Irish Hiking Scarf
(Love those free patterns!)
Started:
December 17, 2005
Finished:
December 31, 2005
Yarn:
Jo Sharp Silkroad Tweed (4 balls) 85% Wool, 10% Silk, 5% Cashmere
Needles:
US size 8 and a cable needle
Notes:
I considered making the cables
without a cable needle
, but found that I like using one. It doesn't seem to slow me down and doesn't get in my way. I find it to be a useful tool (I'm probably in the minority here).
This yarn knit up nicely for this scarf. I used all four balls (104 yds per ball) to get a scarf that measures approximately 60" in length.
This would be a good pattern for someone just learning to knit cables. It is simple and easy to memorize and by the time you finish the scarf you'll be an old pro at it.