I finished the first sock last Friday and it fits! I decided to take a break from tiny needles and itty bitty stitches and indulge in a little instant gratification.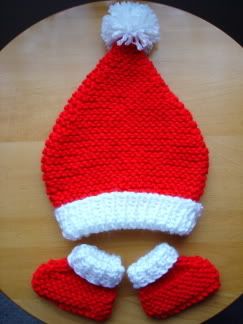 This
cute hat
was designed by
Debbie
, a Preemie Project volunteer. It's knit flat and then seamed together on the side. A great pattern for beginners. I love the shape!
The Preemie Project
will be donating holiday themed hat sets next month, so I will be working on these in between other things. I also just learned there will be a donation of bereavement items on December 1st. Time to start knitting for the babies again. I won't neglect the sock though. I cast on the second one yesterday and have about 3 inches knitted so far.