It's playoff time for the Needville Bluejays! Saturday's game was against Halletsville and was played in Victoria, Texas. It's been a long time since the Jays made it this far. Everyone in town is proud of their accomplishment. I liked the way these girls showed their school spirit.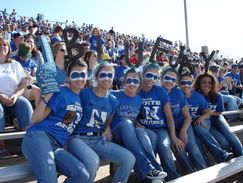 I was cheering for the team as much as anyone, but I was also there to cheer on the band. The half time show was changed up some to feature the flag corps in a routine that required an unusual costume--hot pink body bags.
It was really cute and the little girl next to me was laughing through the whole thing. I had to leave the game after the half time show in order to make it home in time for a dinner date. When I left, Needville was winning by 3 points. The game could have gone either way. Both teams seemed evenly matched. So, I was really excited when my son called to tell me Needville had won, 24-14. Good job Jays! Next Saturday Needville will face Liberty Hill who won their first playoff game, 62-7. I don't like the sound of that.