Yesterday we were in Bryan, Texas to watch the Bluejays play football.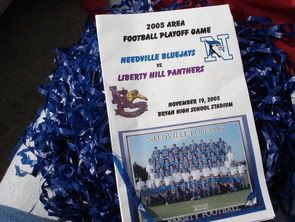 During playoffs, the team roster is expanded to include players from the Junior Varsity squad. This gives them a taste of what it's like to be in a playoff situation. And, I think the large number of players on the team is supposed to intimidate the other side, but of course, they do they same thing. Look at all the uniforms lined up for the coin toss.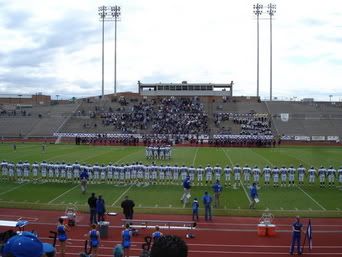 I think the whole town drove the two hours to Bryan to support the team. Lots of blue shirts and lots of spirit. There is nothing like Bluejay pride! It was obvious that our fans outnumbered theirs.
At half time the band performed a few requested favorites. They ended the show with an 'N' for Needville and the fight song--always a crowd pleaser.
Both teams played with heart. It was a hard fought, close game.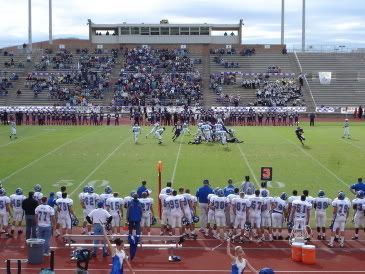 Liberty Hill led for most of the time, though Needville scored first. In the last quarter with less than five minutes on the clock, Needville had their chance. The Jays were behind by seven points. It was first down and only 5 yards to go for a touchdown. We were sure they could do it. They gave it everything they had, but were not successful. Later with a couple of minutes to go, Needville got the ball again on their 30 yard line. Another chance, but the opponents were tough and caused the Jays to fumble and somewhere in those last minutes also scored another touchdown. The final score was Liberty Hill 34, Needville 20.
The fans love their Jays though and after the game began to chant "We are proud of you!"...and we are. Congratulations on a great year.