Yesterday morning I read on
Judy's blog
about a
fiber festival
in Boerne, Texas. I happen to mention it to my husband and he said, "Let's go!". At first I was hesitant. It's at least a three hour drive one way and I was sure it would be a small event, maybe not worth the effort. But, we didn't have any plans for the day, so we decided a drive out to the Hill Country would be fun whether the festival was good or not. It turned out that there were only about a dozen vendors. But one of them was
Brooks Farms
!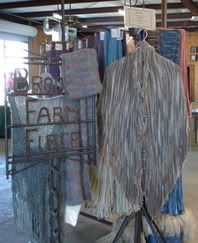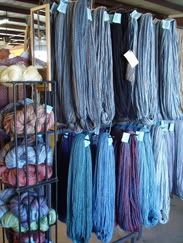 It was worth the trip just to finally see and touch the yarn that I've heard so many rave about. I bought enough for a shawl and a mitten/hat set.
Wyatt Wheels
was there too. Every spinning wheel is individually made by Bill Wyatt and is a work of art. He told us he flunked wood shop in high school. I found that hard to believe! If only his teacher could see what he's making now. My favorite wheel was the Pegasus made from mesquite.
We had fun visiting with the the ladies from Louisiana. They call themselves Les Trois Ami. They are all three spinners and raise their own sheep. One of the farms has a
website
. You can tell they love what they do. We bought a hand crafted knostepinde from their booth. This one is small and delicate looking, made from cherry. I'll use it for winding up small bits of left over yarn. It was handcrafted by Terry Selser, the husband of one of the three.
There were animals and music too. Visit my husband's
blog
for his perspective and more pictures. We acted on a whim and I'm glad we did. I would have never found these treasures otherwise.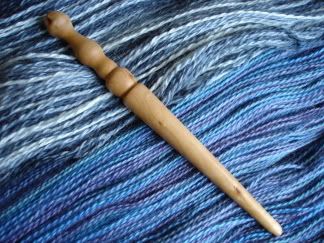 The Bluejays lost their last district football game to West Columbia, 21-7. Playoff game next Saturday.