I finally got to stay home yesterday. I put on my "comfy clothes" (one notch more presentable than pajamas) and tackled the mountain of laundry accumulated over the week. In between loads I answered questions from my
FHBS
students; replaced burned out light bulbs (not my favorite chore); and knit.
Three preemie hats were added to two I already had finished.

Rolled-Brim Preemie Hat
Yarn: Bernat Satin Sport (100% Acrylic)
Color: Seashore and Meadow
Needles: US 5 DPNs
Size: 1-3 lbs
I'm using Bernat Satin Sport for the first time and I love it. Satin is a good name for it. Another good name would be silk. It's extremely soft for an acrylic yarn, which makes it perfect for a baby's delicate skin.
Seashore
When I use up both skeins, I'll send these hats to work with John to deliver to
Hannah's Knitsters
. Amy and Laurie have started a knit-at-lunch group for the employees of the company. Their focus is charity knitting in honor of Amy's daughter Hannah.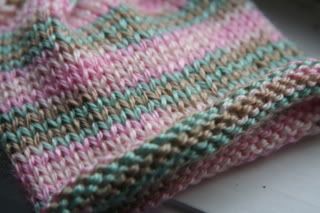 Meadow


I'd love to join them for lunch and knitting one day. I'd even be willing to change out of my "comfy clothes" for that.