We made it home safely on Monday evening. The drive was exactly 9 hours long. However, I didn't knit in the car like I thought I would. So, no progress to show on Clapotis.
The other project I have going is a pair of socks. The first sock is finished and the second is started. Here's a sneak peek of the stitch pattern.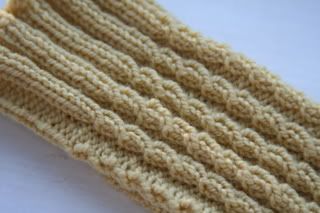 I'm using Baby Cable Rib from Sensational Knitted Socks plugged into Priscilla Gibson-Roberts' formula for sock knitting. So, you know there are also short-row heels and toes. The yarn is Soft Sea Wool.
I could have these socks finished in a day or two, if I put some effort into them, but knitting this week will not come easy. There are too many things scheduled that take priority over yarn and needles. And, that's the way it should be...sometimes.