I'm making good progress on
Clapotis
this week.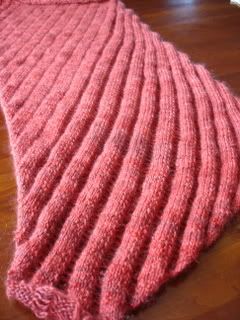 Brooks Farm Yarn Duet
55% Kid Mohair, 45% Fine Wool

Cinnamon Spice
I just completed the straight section, which consists of thirteen repeats of twelve rows, 107 stitches per row. Each repeat took me about an hour to knit, plus another ten minutes to completely unravel the dropped stitch ladder.
I thought the dropped stitches would unzip easily, but that's not the case with the yarn I'm using. It is necessary to pick the stitches apart one at a time, due to the fuzzy nature of mohair. I'm glad I decided to unravel as I go. It's a built in break between repeats, which gives my hands a rest. And, I don't have hours of unraveling hanging over my head at the end.
Now that I'm moving on the the decrease section, things should speed up a bit. Shorter rows and shorter ladders means I might even be finished by the end of the week!